Prayer for our Children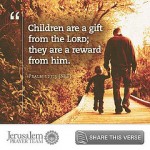 Psalms 127 verses 3-5
"3 Lo, children are an heritage of the LORD: and the fruit of the womb is his reward. 4 As arrows are in the hand of a mighty man; so are children of the youth. 5 Happy is the man that hath his quiver full of them: they shall not
be ashamed, but they shall speak with the enemies in the gate".
This section deals with the challenges, ways of life and the right way to train our children. We as believers are blessed with these gifts as a means of our continuity and dominance on the planet. For us to subdue and have dominion as promised in Genesis 1 verse 28 " And God blessed them, and God said unto them, Be fruitful,
and multiply, and replenish the earth, and subdue it: and have dominion over the fish of the sea, and over the fowl of the air,and over every living thing that moveth upon the earth. we must raise children in the way of the Lord". 
We have to train our children in the way they should go as instructed in Proverbs 22 verse 6 " Train up a child in the way he should go: and when he is old, he will not depart from it". Our children are like plants that needs to be pruned to bear much fruits, the pruning are the training we ought to give our children if we want them to be good ambassador of Christ. For more information on how to raise your child in the way of the Lord download our books below and as you read and practice what the bible says may you never regret over your children and may all powers planning to destroy your children be wasted in the name of Jesus Christ.
Messages