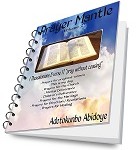 The Path of Righteousness Apostolic Ministry
The Path of Righteousness Apostolic Ministry is an end time Apostolic Ministry commissioned with the aims of promoting the ways of our Lord Jesus Christ through teaching his true words and spreading the good news of his death, resurrection and eternity for mankind across the globe and also reminding our readers that Peace with all men,holiness, faith in the word and obedience are the key ingredients to making heaven.

Aims and Objectives
– To upload 4 ebooks monthly
– Have monthly newsletter
– Weekly update of the blog post
Mission
Our mission is to provide basic understanding of the bible to believers and non believers, promote holy, righteous and Jesus way of living and to bring the lost sheep back to God.
Vision
We intend to provide our global readers and subscribers with life changing biblical teachings through our secured online platform with easy to read pages, blogs and ebooks that are readily available for easy download.
Strategy
we hope to achieve our aims and objectives, mission and vision by advertising on other social media platform and referral, through word of mouth.
" John 8 verse 32 thou shall know the truth and shall set you free"
The truth you must know
Galatians 6 verse 7 " Be not deceived: God is not mocked: for whatsoever a man soweth, that shall he also reap"
John 14 verse 6 " Jesus saith unto him, I am the way, the truth and the life: no man cometh unto the Father, but by me"
Hebrews 11 verse 6 "But without faith it is impossible to please him, for he that cometh to God must believe that he is and that he is a rewarder of them that diligently seek him"
Psalm 119 verse 130 " The entrance of thy words giveth light: it giveth understanding unto the simple"
John 1 verse 5 " And the light shineth in darkness: and the darkness comprehended it not"
Isaiah 53 verse 5 " But he was wounded for our transgressions, he was bruised for our iniquities: the chastisement of our peace was upon him: and with his stripes we are healed"